Nov. 17, 2023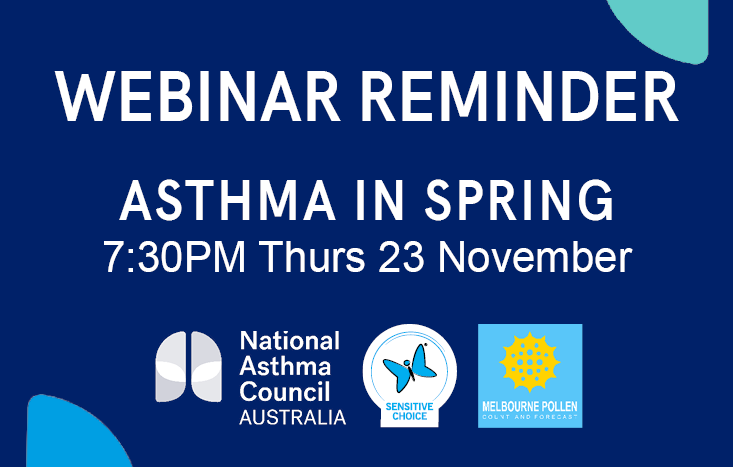 https://www.sensitivechoice.com/asthma-in-spring-webinar/
We're partnering with the National Asthma Council Australia's Sensitive Choice program to host the Asthma in Spring webinar at 7:30PM AEST on Thursday 23rd November 2023.
This is a free online webinar discussing thunderstorm asthma, allergic rhinitis (hay fever) and how you can stay safe this allergy season.
The National Asthma Council Australia's Senior Clinical Consultant and Asthma and Respiratory Educator, Narelle Williamson, will be presenting this webinar.
The National Asthma Council Australia (NAC) is the national authority on asthma, setting the standard for asthma care. They develop best practice guidelines for asthma, providing resources, education and training for health professionals so they can provide the best care to their patients. They also produce helpful resources like fact sheets on asthma health topics and videos about how to use medication and devices. Narelle Williamson has been educating and consulting with patients and primary health care professionals for the past 12 years. She has delivered the 'Asthma and Lung Health Best Practice for Professionals Program' to health professionals all around Australia.
In 2006, the NAC developed the Sensitive Choice program as an initiative to help the 2.7 million Australians living with asthma. Up to 80% of people with asthma also have allergies, and Sensitive Choice is committed to empowering people to live better with asthma and allergies.
Join us at the Asthma in Spring webinar for all you need to know about asthma, allergies and navigating the pollen season!
Register for free now: https://www.sensitivechoice.com/asthma-in-spring-webinar/