Sept. 12, 2022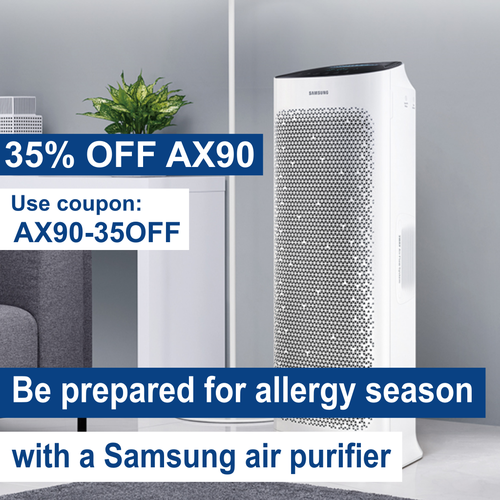 Sydney Pollen has been part of Sydney's spring for more than 10 years, providing daily grass pollen counts and forecasts from October through to December to help people living with seasonal allergies like hay fever.
On forecast high grass pollen days, we advise you to have your medicine handy and avoid unnecessary exposure by staying indoors. But for some people, staying indoors is not enough and they need an air purifier as well to filter out the pollen in the air inside their home or office. To do this effectively, you need to use an air purifier with a HEPA and an activated carbon filter to remove the small airborne particles such as pollen and mould spores.
This year, Samsung is helping Sydney Pollen users better prepare for the allergy season by offering them a generous 35% off the recommended retail price of their AX90 Ultimate Air Purifiers until 30 September. Samsung's air purifiers have been purchased by the Victorian Government for use in the state's public schools, and recommended by CHOICE in 2021 and 2022. These devices also have the trusted Sensitive Choice tick, indicating a potential benefit to someone with asthma and allergies. Samsung's AX90 air purifier can be used to help clean the air in large shared areas of the home.
To get the discount simply enter the voucher code "AX90-35OFF" at the checkout on the Samsung.com website.
You can learn more about the Samsung AX90 Ultimate Air Purifier by following this link:
https://www.samsung.com/au/air-care/air-purifier/ax7500k-air-purifier-with-3-way-air-flow/?utm_source=pollen&utm_medium=banner&utm_campaign=AX90pollen