Aug. 11, 2023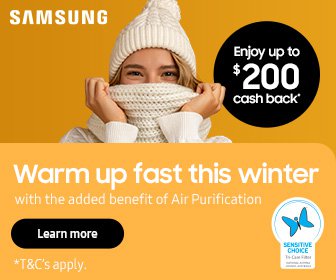 As the chill of winter approaches, ensuring a warm and comfortable home becomes a top priority. Imagine, however, not just experiencing warmth, but also breathing in air that's pure, refreshing, and filtered to reduce allergens.
Sydney Pollen is thrilled to introduce Samsung's innovative range of air conditioners, promising a winter that not only keeps you snug but also nurtures your well-being by incorporating advanced air purification technology. These innovative units feature Tri-Care Filters with a triple-layered defense mechanism. The high-density filter extracts larger particles like dust, fibers, and pet hair, ensuring a cleaner atmosphere. Additionally, the Zeolite Coating Filter captures finer dust particles and allergens.
Cash Back Offer: Elevate Your Comfort and Savings
To sweeten the deal, Samsung is offering you a chance to receive up to $200 cash back on your purchase with selected models. This means not only enhancing your home environment but also keeping some extra dollars in your pocket. It's a win-win situation that ensures you enjoy a cozy winter while breathing clean, fresh air.
How to Get Your Cash Back
Explore the Range: Discover Samsung's selection of air conditioners with built-in air purifiers. Each unit is designed to provide optimal comfort and air quality.
Make Your Purchase: Choose the air conditioner that suits your needs and make your purchase from the official Samsung website or authorised retailers.
Claim Your Cash Back: Once you've made your purchase, follow the provided instructions to claim your cash back. It's a hassle-free process that rewards you for choosing a smart and comfortable home solution.
Visit the link to explore the range and make your purchase. Elevate your living space and experience the joy of breathing easy while staying cozy:
Note: Cash back offer terms and conditions apply. Be sure to review the details on the official Samsung website.